Membership is open to anyone with an interest in social insects. While the North American Section is principally intended to serve Canada, Mexico and the United States, we happily accept members from other countries. However, we do encourage interested individuals to explore whether there might be a section closer to them that could better serve their needs.
Please renew membership annually at the start of each calendar year.
Annual Dues
Non-Student Membership…….. $25
Student Membership…………… $15
Full-time students at any educational institution qualify for the student rate.
Family of a Fully Paid Member…. $5
Donations are welcome and appreciated! If you like, you can include a donation for any amount above the amount owed for your membership. These funds can be directed toward the Eickwort Award (general award), the Nutting award, the La Fage award, the Tschinkel award, or the Jeanne award. You may also donate funds to the IUSSI-NAS general fund.
PAY ON-LINE [Recommended]

  
Fill out the "NAS-IUSSI membership form" below

Note the form is comprised of multiple sections – and is complete when you click 'Submit'.
The form includes the option to provide permission to include your information in our on-line Membership Directory

After submitting the form, click "Donate" to make payment using Paypal or a credit card. You will be taken to a secured website where you can make your payment.


Please remember that you need to manually enter the total dollar amount into Paypal. When you click on
Example: After you enter in the amount and click one of the Donate options, you will see an option to "Add special instructions to the seller". Here, p
lease include your Membership Type and, if you are making a donation, the fund that you wish your donation to go towards.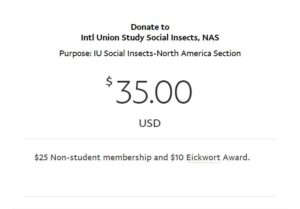 Paypal does not offer a way to automatically transfer information from our membership form to its payment website because we are registered as a non-profit accepting donations. The donation amounts cannot be pre-specified. We are looking into how to change this system to provide a better user experience.